Post OUT-OF-DATE. Check this one instead:
http://arturito.net/2012/03/07/how-to-jailbreak-apple-tv-2g-4-4-4-and-install-xbmc-untethered/
Yesterday I got a new Apple TV 2 as a birthday gift and I decided to stick XBMC media centre on it since I already have one on the first generation of Xbox. I thought that would be perfect fanless replacement.
I read a lot of post how to jailbreak it with Pwnage Tool and Seas0nPass but all these methods have two huge disadvantages.
1. These programs come only for Mac computer for now. (I don't have one)
2. They are tethered, which means everytime you shutdown Apple TV you will have to connect it to the Mac to boot it in jailbreaked mode.
I found little program that is called GreenPois0n and it comes for Mac, Linux and Windows and very little reference on the internet on how to use it. I thought I will give it a go. Program can be downloaded here: http://greenpois0n.com/
What you need:
1. Micro USB cable – unfortunately it is not supplied with Apple TV 2 so you need to get one or ask your friends. I had one as it came with my Blackberry.
2. iTunes software on your computer. http://www.apple.com/itunes/
3. GreenPois0n program http://greenpois0n.com/ (latest version RC6)
4. Find out which version your Apple TV 2 is running  (Settings > General > About) Ideally should be 4.1.1.  Mine came with 4.1 and I had updated it via iTunes to 4.1.1
UPDATE: 10.04.2011
If your version is greater than 4.1.1 skip this tutorial and go here:
http://arturito.net/2011/04/12/apple-tv-2g-untethered-jailbreak-and-xbmc-installation-ios-4-3-working/
Ok let's do the magic:
Important! I do not take responsibility to any damage you do to your Apple TV 2. Remember, you are doing it at your own risk.
*It is highly unlikely to brick it or break it. Never heard of anyone messing up Apple TV 2 yet. You can always restore the firmware to its original state through iTunes.
1. Unplug all cable from Apple TV 2
2. Run the GreenPois0n program and follow instructions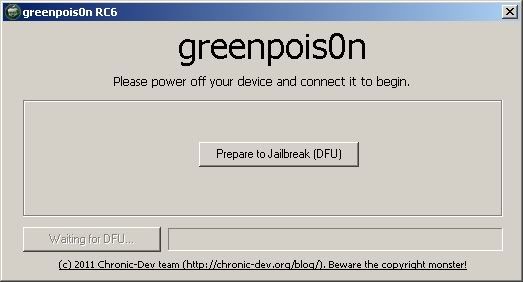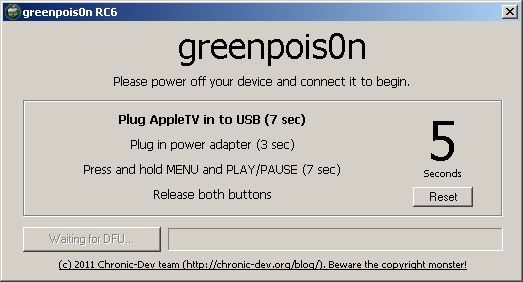 If Jailbreak! button is not active that means you failed to put Apple TV 2 in DFU mode. Try again.  When Apple TV 2 goes into DFU mode the LED light on the front panel flashes rapidly. Make sure that your timing is ok.  I managed to put it in DFU mode on 3rd attempt.
3. Once GreenPois0n is done. Disconnect it and hook it back to your TV.
*When I did mine for the first time it didn't boot properly. I have noticed that before jailbreaking my version was 4.1. I connected Apple TV 2 back to my PC and did the Restore process through the iTunes. Restore process updated latest Apple TV 2 firmware to 4.1.1. I run Green Pois0n again and it did work.
* Although I haven't experienced any problems and all worked well once I had 4.1.1 user Fluxx has recommended to wait 40 seconds after the jailbreak is done.
4. Now you should get this option:

5. Click on Inject Software and than Install . Your Apple TV 2 will automatically restart and you will get this new menu item called NitoTV. Select NitoTV and in the submenu select Install Software.  Find XBMC-ATV2 and hit install it.
6. It will automatically download and install XBMC. After install Apple TV 2 will automatically reboot.
IMPORTANT!!!
Install updatebeGone to disable all Apple updates.
http://arturito.net/2011/03/21/how-to-fix-xbmc-that-quits-exits-on-apple-tv-2g-disable-update/
* If you don't see XBMC in menu option after the installation.
Reboot Apple TV 2 and install again.
It happend to me while jailbreaking aptv2  of one of my friends. If you still get the problems such as:
E: dkg was interrupted, you must manually run 'dpkg –configure –a' to correct the problem
Check this post: http://arturito.net/2011/02/25/apple-tv-2-xbmc-installation-dkg-was-interrupted-you-must-manually-run-dpkg-%E2%80%93configure-%E2%80%93a-to-correct-the-problem/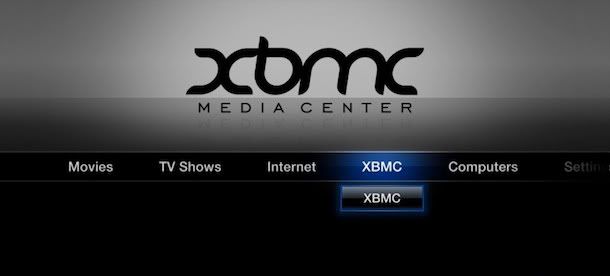 Skins I have tried that work well on Apple TV 2:
Alaska Revisited
Night
I will be trying to install these too:
Rapier – I used to use in XBMC on my xbox – very responsive
Aeon – my favorite
http://www.youtube.com/watch?v=HuDs0HV0Pls
* You can also log in via SSH to your Apple TV2

1. Find out what IP is assigned to the box:  Settings >Network
2. Use program such as Putty http://www.chiark.greenend.org.uk/~sgtatham/putty/download.html to login
Username: root
Password: alpine
*Also since the TV I hooked up Apple TV 2 to doesn't have HDMI input I used a converter from HD Fury (version 1) to convert HDMI to VGA. It works perefectly without any additional power supply.

UPDATE: 21.03.2010
Solutions to some common problems:
1. Changing time zone / setting up date and time:
http://arturito.net/2011/03/21/how-to-change-configure-time-zone-on-apple-tv-2g-xbmc-time/
2.  XBMC exiting/crashing is due to the Apple TV 2 updates
This fixes it and gets a rid off the annoying update prompt.
http://arturito.net/2011/03/21/how-to-fix-xbmc-that-quits-exits-on-apple-tv-2g-disable-update/
Good Luck!!!