Many people look for cheap multiroom media solutions. There are many options.  In this article I would like to share what media center system I have built and how reliable it has been so far.
Firstly, I started with my living room. I've already had plasma TV and audio amplifier with 5.1 speaker system. All I needed was some sweet media center and storage for my films, music and pictures. As storage I went for NAS Storage Synology DS110j. Honestly, forget NAS systems from WD, LinkStation and Netgear. I have read a lot of comments about NAS products before buying one and a lot of people always had some problems with these.Synology though has good reputation amongst its users and there is no mistake – this product is great!I bought 2TB hard drive and installed it in the NAS. Created shares and uploaded content to it.
What about media center? Well, I've always been big fan media center software and I have tried few. At the begging I had PC with Windows Media Centre 2005 hooked up to the TV. Not a good solution. Big case and fan noise. Also, I didn't like Windows Media Centre. It didn't support many file formats, subtitles and I got windows errors while watching films too many times. I moved to XBMC and it became my best friend!. I strongly recommend trying it. It has so much to offer!
What most I like about it is:
– haven't found video or audio format xbmc doesn't support
– multiple subtitles in various formats
– allows me to add content from various sources : windows and linux shares , UPnP AV ….
– choice of skin
– allows me to stream content directly from internet (youtube, megavideo)
Some months later I took PC out and put first generation of Xbox with XBMC on it. I didn't have to wait for PC to boot up and shutdown anymore. Xbox was ready in about 5 seconds and I could just shut it down with 1 button click just as DVD player. It served me well until I got Apple TV 2 and installed XBMC on it.
This is what I came up with: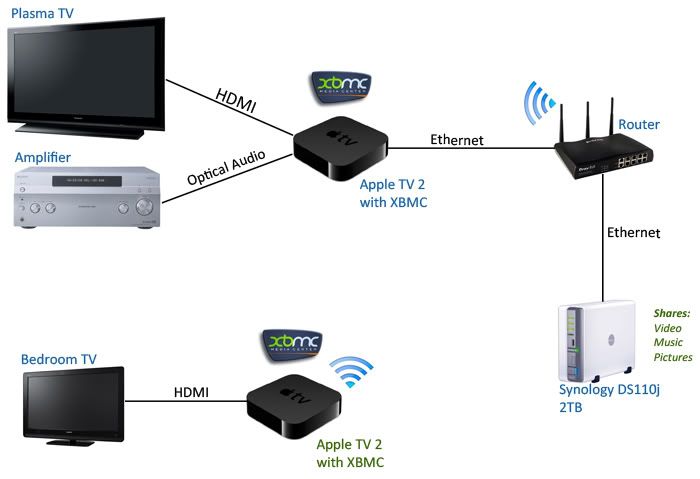 And what you get is this:
http://www.youtube.com/watch?v=HuDs0HV0Pls
Here are links where you can buy this stuff:
Synology DS110j
http://www.amazon.co.uk/Synology-DS110j-Disk-Station-Enclosure/dp/B002U42XD6/ref=sr_1_1?ie=UTF8&qid=1297860833&sr=1-1
Seagate 2TB hard drive
http://www.amazon.co.uk/Seagate-Barracuda-Power-Drive-Cache/dp/B002C1ANNO/ref=sr_1_1?s=computers&ie=UTF8&qid=1297860852&sr=1-1
Apple TV
Here you can learn how to install XBMC on Apple TV 2
http://arturito.net/2011/02/14/apple-tv-2-untethered-jailbreak-on-windows-and-xbmc-media-centre-installation/